Northern California Fire Resources and Information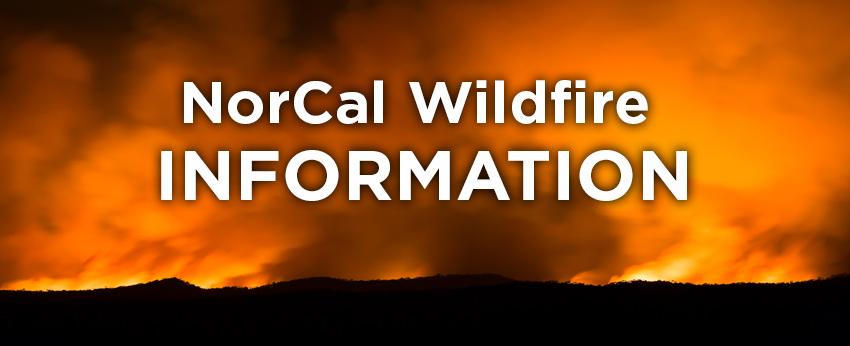 UPDATED 11/3/2017 1:12 PM 
Below are some important websites you can use to find more information about the devastating fires in Assembly District 4 and throughout Northern California. Click on the links for updated information from these sources, and please continue to check back as we will be updating this page with new details and resources as they become available.
As always, please remember that you can contact the staff in my district office in Davis if there is anything else we can do to help: (530) 757-1034.
Please take care of yourselves and your loved ones. Be safe.
Cecilia Aguiar-Curry
---
Wildfire Recovery: For a comprehensive information from CalOES and FEMA regarding wildfire recovery resources please go to www.wildfirerecovery.org
Local Assistance Centers: The Governor's Office of Emergency Services has established Local Assistance Centers (LACs) in affected counties to assist those impacted by the fires. Each LAC is staffed and supported by local, state, and federal agencies, as well as non-profit and voluntary organizations.  The LAC provides a single facility at which individuals, families and businesses can access available disaster assistance programs and services. ICE will continue to suspend routine immigration enforcement operations in the areas affected by the fires in northern California, and ICE will not be present at the local assistance centers.
Lake County 
Location: Clearlake Senior Center (3245 Bowers Avenue, Clearlake, CA 95422). 
Hours: Tuesday, October 17 – Saturday, October 21, from 11:00am– 7:00pm.
Napa County 
Location: Napa County Health and Human Services (Building A, Conference Center, 2751 Napa Valley Corporate Drive, Napa CA 94559).
Hours: October 16 – October 20 from 9am to 7pm & October 21 – October 22 from 10am to 5pm.
Sonoma County
Location: Press Democrat Building (427 Mendocino Avenue, Santa Rosa).
Hours: October 14 – October 22 from 9am-7pm. 
Employment: For victims of the wildfires, the one-week waiting period for Unemployment Insurance is waived, and employers have a 60-day extension to file state payroll reports and deposit payroll taxes without penalty or interest. County-Specific EDD Information
Shelters, Clinics, Closures: This is a comprehensive list of local resources, including shelters, housing assistance, local school closures, and health clinics. North Bay Resources
Sutter Health patients impacted by the fires are urged to call (866) 961-2889 with questions or concerns. Most Sutter Health locations are open and accepting patients. Impacted Locations
Kaiser Permanente has a website where they are updating information about which of their facilities are open, where members can get prescriptions filled, and find family members during the North Bay fires. Kaiser Facilities
Chase customers impacted by the fires can use the following phone number to address any of their specific needs or questions. - (888) 356-0023
Local Communication: Nixle is a Community Information Service that can help you stay updated on relevant information from local public safety departments and schools based on your physical location. Only authenticated agencies and community organizations can securely publish information. Nixle Updates  
CalFire is the state agency managing the firefighting of all of the Northern California fires. This link will provide a summary of the fires, containment, evacuation orders, and local impacts. California Statewide Fire Summary
CalOES is the Governor's Office of Emergency Services. This page on the October Wildfires has information on the status of the emergency and local evacuation orders and shelters. Incident Overview
CalTrans: The California Department of Transportation is updating this link with current highway and road information. Road Conditions 
Contacting Loved Ones: The American Red Cross has created a tool to check in with your friends and family that may have been impacted by the fire. If you are in the area, you can let others know you are safe by checking in here. You can also use this website to look for loved ones. Safe & Well
Pets and Animals: The Solano County Fairgrounds is acting as a large animal evacuation center. They still have room for animals. Solano County Fairgrounds   
The SPCA of Solano County has space for small animals that have been evacuated. Contact them at 707-448-7722. SPCA of Solano County
Our Congressional Representatives for Assembly District 4 are also here to help.
Congressman Mike Thompson
Congressman John Garamendi
---
To Donate or Volunteer:
The CalVolunteers webpage will be updated regularly with information about how to donate money or goods, and how to volunteer. Remember to carefully research any other charitable organizations prior to donating. How You Can Help 
Redwood Credit Union is accepting financial donations to aid relief efforts and assist victims of the North Bay fires. 100% of your tax-deductible donations will go directly to support those affected. When you donate, you can choose to support any of the four counties affected: Sonoma, Napa, Mendocino, or Lake. You may also designate "all," and your funds will be equally distributed among all four counties. Donate Here
Non-monetary Donations: If you would like to support the victims of the Northern California fires with supplies, please donate feminine products, toiletries, packaged underwear, shoes, brand new pillows, phone chargers, OTC medication, bottles of water and gatorade, non-perishable food for replenishing food banks and firehouses, pet food, sleeping cots, blankets, yoga mats, air mattresses, or face masks for breathing. 
Napa County
Monetary Donations: To support the communities affected by the fires in Napa County, please contribute to the Napa Valley Community Foundation. 
Volunteer: You can also offer your assistance at the Napa Storehouse Food Pantry. If you would like to donate food, your donation must be packaged. To learn about more volunteer opportunities, please visit the California Volunteers website.
Sonoma County
Monetary Donations: To support the communities affected by the fires in Sonoma County, please donate to the Sonoma County Resilience Fund.
Volunteer Opportunities: The Salvation Army at 721 South McDowell Blvd in Petaluma is in need of non-perishable food items and volunteers. To learn about more volunteer opportunities, please visit the California Volunteers website.
Undocufund: To provide direct funding to undocumented immigrants and their families to help with expenses incurred directly as a result of the fires, please donate to the Undocufund.
---
LAKE COUNTY
Evacuation Shelters:
Twin Pines Casino 22223 CA-29, Middletown
Drinking Water Safety:
According to the Lake County Sheriff's Office: Golden State Water Company, which provides service to the evacuated areas of the Sulphur Fire, has issued a precautionary boil water notice. Do not drink water without boiling it first. We will inform you when the water is again safe to drink. Residents in the area should also avoid using excessive water so the pressure can be maintained for firefighting efforts. For more information call 1-800-999-4033.
Food: CalFresh replacement benefits are available for evacuees who lost food in the Sulphur Fire. More info here: https://local.nixle.com/alert/6200071/
City and County Information: To remain updated with the Sulphur Fire and Lake County resources, follow the Lake County Facebook and Twitter
---
NAPA COUNTY
Medical Care: Santa Rosa Kaiser and Sutter hospitals have been evacuated and are now temporarily closed. Napa Medical is also closed. SR Kaiser patients have been transferred to Veterans Memorial in Santa Rosa, and the Kaiser facility in San Rafael. Kaiser facilities in Solano County remain open in Vallejo, Vacaville, and Fairfield. Families of patients can call 1-855-599-0033 for information on patients that have been transferred.
Partnership Health Plan is working with the State of California to administer Medi-Cal benefits through local care providers. They are providing information to patients in the fire areas. Partnership Health Plan Information to Medi-Cal Patients in Fire Area
---
SOLANO COUNTY
Law Enforcement Updates: The Solano County Sheriff Facebook Page provides information about the status of the fire as well as additional resources.  
For the latest updates regarding the Atlas Fire in Solano County please check here.
If you are interested in volunteering or providing donations for the Large Animal Evacuation Center at the County Fairgrounds check here. 
---
SONOMA COUNTY
Law Enforcement Updates: The Sonoma County Sheriff Facebook Page provides information about the status of the fire as well as additional resources. On Twitter:  https://twitter.com/sonomasheriff
Veterans: Veterans Home of California in Yountville. Anyone seeking information on a family member who is a resident at the Home should call the patient information line at (707) 944-4700.
Telecommunications: Comcast opened free Xfinity WiFi hotspots for those affected by #AtlasFire, #TubbsFire, and #NunsFire. These hotspots will be open through Friday, October 13, and longer if necessary. If you are a current Comcast internet subscriber, you can use your regular login to connect to various hotspots. If you are not a Comcast subscriber, you can search for the "xfinitywifi" network name, launch the browser, and locate the "Not an XFINITY Internet Customer" section on the sign-in page to get started. HotSpot Zip Codes: https://www.verizonwireless.com/featured/relief/
We recommend using text to communicate whenever possible. Because many cell towers were destroyed by the fires, more people are tapping into fewer towers. Text requires less "energy" than cell calls. Telecom companies are waiting for permission to go into damaged areas to install temporary towers. If you are having trouble finding family or friends, here is a hotline number for Sonoma County (707) 565-385
Temporary Housing - Airbnb has activated its Open Homes tool for Hosts in Marin, Alameda and Mendocino Counties as well as San Francisco, to support those evacuating from the #TubbsFire and #AtlasFire. This means that Airbnb hosts in these areas can list their space for free to accommodate evacuees who urgently need shelter.
Undocufund - Provides direct funding to undocumented immigrants and their families to help with expenses incurred directly as a result of the fires. https//www.undocufund.org
---
Recovery Information for Wildfire Victims
Proceed with caution once your local agency has granted permission to re-enter your neighborhood. Protect your home by performing temporary repairs, and take advantage of the following resources as you work towards recovery and repair.
Disaster Assistance
To register for voluntary disaster assistance with FEMA visit www.DisasterAssistance.gov or call 1 (800) 621-FEMA. You will need your social security number, home address, telephone number, mailing address,  insurance information, description of damage, and bank account information.
Property Taxes
Fire victims are eligible for a program to temporarily reassess their property to reflect a lower value based on its damaged condition. To qualify, property owners must have experienced at least $10,000 in property damage and must file a claim with their county assessor within 12 months. Use this list of County Assessors to file your information.
Wildfire victims can also apply for a property tax deferral of their next property tax payment without penalties or interest. To do this, owners must file a "property tax deferral claim" with their county assessor before the next property tax installment payment date. The Board of Equalization has put together a Disaster FAQ page for more information.
State & Federal Taxes
The Franchise Tax Board and Internal Revenue Service announced special tax relief for California taxpayers impacted by wildfires. Affected taxpayers are granted an extension to file 2016 California tax returns and may make payments until January 31, 2018. For more information about tax returns visit the FTB Disaster Relief Webpage. Federal relief applies to various tax filing and payment deadlines that occurred beginning October 8, 2017. See more information from the IRS here. Wildfire victims may also receive free copies of state tax returns to replace lost or damaged ones using this form. 
Home Insurance
The California Department of Insurance has obtained agreements from several insurance companies handling wildfire damage claims to help victims begin their recovery more quickly.Call your insurance company or agent to inquire about your coverage and next steps.  If you were subject to a mandatory evacuation, you may be eligible for reimbursements for additional living expenses. Remember to watch out for scams seeking to take advantage of this disaster. For more details, visit the Insurance Commissioner's Resources Page or call 800-927-HELP.