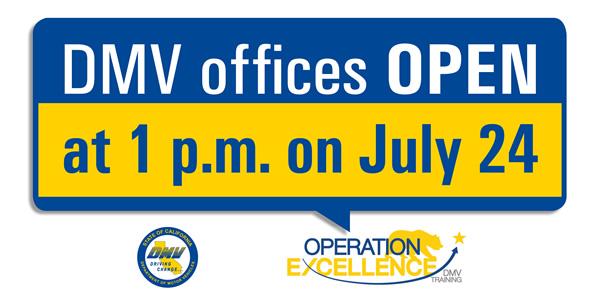 On Wednesday, July 24th, all California DMV offices will be temporarily closed until 1:00 p.m. so that employees can get the latest training in preparation for Real ID 2020 and customer service. More than 5,000 employees will be updated at 183 DMV field offices, Commercial Drive Test Centers, and Industry Business Centers throughout the state.
DMV Call Centers (1-800-777-0133) will remain open during the half-day office closure. Customers also will be able to:
Conduct transactions online, including renewing a vehicle registration, changing an address, requesting a copy of their driving record, or making an appointment.
Conduct transactions at DMV Now self-service kiosks located at grocery stores and select libraries, such as renewing a vehicle registration, filing for planned nonoperation (PNO) status, submitting an affidavit of non-use, submitting proof of insurance, and paying a $14 insurance reinstatement fee. A map of kiosks can be found online.
AAA members may visit AAA offices to conduct some transactions, including vehicle registration renewal.
Registration services also are available at California DMV Business Partners for a fee. Customers can search for partners with this online map.
Normal business hours will resume the next day, July 25th. We hope that taking this opportunity to train employees and improve daily business processes will help make DMV trips easier for our constituents. If you require assistance with any DMV issues, you can contact our Davis district office at (530) 757-1034 or our Napa district office at (707) 224-0440. Thank you for your patience.