Please help find two missing teens in our community!
Wednesday, February 15, 2017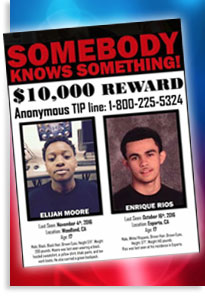 They say, "the more eyes the better" and in that spirit I am writing to you today to ask your help in finding two teenagers from our community who have gone missing. 
Enrique Rios of Esparto and Elijah Moore of Woodland, both 17, vanished several months ago. The Woodland Police & Yolo County Sheriff Departments have been working tirelessly on the case. The FBI has now become involved in the search for these missing teens and is offering up to $5,000 for information leading to the return of each child.
If you know anything or might know anything please contact the FBI at 800-CALL-FBI (800-225-5324) or submit a tip online at https://tips.fbi.gov.