Northern California Fire Resources and Information - UPDATED 2018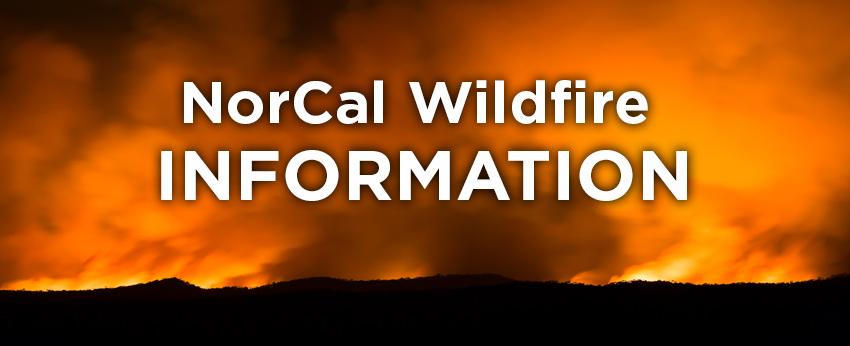 UPDATED 7/6/2018 4:15 PM  - 2018 Fire Season

Below are some important websites you can use to find more information about the devastating fires in Assembly District 4 and throughout Northern California. Click on the links for updated information from these sources, and please continue to check back as we will be updating this page with new details and resources as they become available.
As always, please remember that you can contact the staff in my district office in Davis if there is anything else we can do to help: (530) 757-1034.
Please take care of yourselves and your loved ones. Be safe.
Cecilia Aguiar-Curry
---
Pawnee Fire updates
 Red Cross' Website: https://redcrossblognccr.org/2018/06/27/red-cross-opens-shelter-details-ways-to-support-residents-affected-by-pawnee-fire/
 Shelter:
Independent shelter open at the Moose Lodge, 15900 E Highway 20, Clearlake Oaks, CA 95423
 Animals:
The shelter at Lower Lake High School is helping evacuated animals
Large Animal staging at the Social Service Center, 15975 Anderson Ranch Parkway, Lower Lake, CA  
Call Animal Control at 707-263-0278 for additional animal services.
 If you would like to volunteer:
 Air Quality: AirNow has information regarding air quality in the Sacramento area.
Visit  https://airnow.gov/index.cfm?action=airnow.local_state for more information.
Air quality in the Sacramento area is moderate to unhealthy for sensitive individuals.
While dust masks protect us against large ash particles, it will not protect us against the finer pollutants produced by the wildfire. Stay indoors and limit outdoor activities to avoid smoke inhalation.
Drink plenty of water to clear your airways.
County Fire Updates
CalFire Incident Information: 
Counties:  Lake County, Napa County, Yolo County
Location:  County Road 63 and Highway 16, Rumsey Canyon
CalFire Incident Information: http://www.fire.ca.gov/current_incidents/incidentdetails/Index/2101
County Fire Community Meeting:
When: July 7, 2018 at 4:00 pm
Where: Guinda Grange Hall, 16787 Forrest Ave. Guinda, CA 95637
The Yolo County Office of Emergency Services, along with CAL FIRE Incident Management Team 3 will host a community meeting in Guinda, CA. Representatives from the agencies managing the incident will provide an operational briefing and be available for questions. Please arrive early as the meeting will begin promptly.
Yolo County Incident Information: http://www.yolocounty.org/general-government/general-government-departments/office-of-emergency-services/current-emergencies-and-incidents
County Fire Information Line: (707) 967-4207
Winters Express local coverage: https://www.wintersexpress.com/local-news/guinda-fire-county-fire-yolo-county/#fireinfo
Mandatory evacuations:  
West of State Highway 16  to Berryessa Knoxville Road
South of Old County Road 40
North of County Road 53
West of State Highway 16 to the Yolo/ Lake County Line
North of County Road 40
South of the Yolo County line
Evacuation Advisory: None
Evacuation Center: None
For questions regarding Yolo County evacuations or advisories, please dial 2-1-1.
For Solano County, the evacuation hotline is (707) 398-8261.
Napa County residents can text their zip code to 888777 for evacuation updates
Information Centers:
As of 07/5/2018, the Winters Community Center at 201 Railroad Avenue, Winters, CA is listed as an information center by Yolo County Incident Information.
As of 07/5/2018, the Boy Scout Cabin at 16960 Yolo Avenue, Esparto, CA was designated as an information center (this location was previously designated as an evacuation center)  
Trailer & RV Parking
Field east of Lorenzo's Market in Winters is open for the parking of trailers and motor homes of evacuees. 
Road Closures: 
Berryessa Knoxville Road, from the Pope Creek Bridge to the Napa/Lake County line
State Highway 16 has been closed between State Highway 20 and Rumsey Hall
See http://quickmap.dot.ca.gov/ for the latest on road closures from CalTrans
Cooperating Agencies:  California Department of Corrections and Rehabilitation, OES, Yolo County Sheriff, Napa County Sheriff, California Highway Patrol, PG&E, Capay Valley Fire Department 
Yolo County Fire Map Information: http://yolo.maps.arcgis.com/apps/webappviewer/index.html?id=078e710f01584f40be3dfba81a7f085a
Air Quality:
The County Fire continues to transport smoke throughout the region.
The Yolo-Solano Air Quality Management District (Yolo County/Dixon/Vacaville) has issued a smoke alert from July 2nd - July 7th. The District recommends that residents:
Reduce their outdoor physical activity
Lower their exposure to smoke, such as closing windows and doors
Pay attention to local news for health warnings and what to do in emergency situations
Turn off all wood-burning appliances and turn off their air conditioners
Sign up for local air quality alerts at: http://ysaqmd.enviroflash.org/
See more resources here: https://www.ysaqmd.org/plans-data/air-quality-data/
Sacramento Metropolitan Air Quality Management District: Smoke from the County Fire in Yolo and Napa counties continues to impact the Sacramento region. Sac Metro Air District has issued a smoke-related health statement in effect through Sunday, July 8. Visit http://sparetheair.com/aqirealtime.cfm to check current air quality conditions.
Bay Area Air Quality Management District (Napa/Solano): Onshore winds are currently minimizing wildfire smoke in the Bay Area, but conditions may change over the weekend. For more information visit  http://www.baaqmd.gov/about-air-quality/current-air-quality.  
Animal Shelters (Large & Livestock):
Sandy Ranch, 13513 County Road 90A, Woodland -- (530) 662-1166
Gambling Rose Ranch, 35620 County Road 20, Woodland -- (530) 908-9769
Sugarland Ranch, 41070 County Road 18C, Woodland -- (916) 842-1579
For those who require assistance with large animal and companion animal needs, contact (707) 416-8445
---
Local Communication: Nixle is a Community Information Service that can help you stay updated on relevant information from local public safety departments and schools based on your physical location. Only authenticated agencies and community organizations can securely publish information. Nixle Updates  
CalFire is the state agency managing the firefighting of all of the Northern California fires. This link will provide a summary of the fires, containment, evacuation orders, and local impacts. California Statewide Fire Summary
CalTrans: The California Department of Transportation is updating this map with current highway and road information. Road Conditions 
Contacting Loved Ones: The American Red Cross has created a tool to check in with your friends and family that may have been impacted by the fire. If you are in the area, you can let others know you are safe by checking in here. You can also use this website to look for loved ones. Safe & Well
Our Congressional Representatives for Assembly District 4 are also here to help.
Congressman Mike Thompson
Congressman John Garamendi
---
To Donate or Volunteer:
The CalVolunteers webpage will be updated regularly with information about how to donate money or goods, and how to volunteer. Remember to carefully research any other charitable organizations prior to donating. How You Can Help 
---
Recovery Information for Wildfire Victims
Proceed with caution once your local agency has granted permission to re-enter your neighborhood. Protect your home by performing temporary repairs, and take advantage of the following resources as you work towards recovery and repair.
CalFresh Benefits
Current CalFresh recipients who have experienced food loss due to the Pawnee Fire may be eligible to receive a replacement portion of CalFresh benefits. Households have either ten days from the date of the disaster or until July 4th, 2018 to request replacement benefits from the Lake County Department of Social Services.  Toll Free Phone: 1-800-628-5288. Address: 15975 Anderson Ranch Parkway, Lower Lake, CA 95457. Hours of Operation: M-F, 8:00 a.m. to 5:00 p.m.
Disaster Assistance
To register for voluntary disaster assistance with FEMA visit www.DisasterAssistance.gov or call 1 (800) 621-FEMA. You will need your social security number, home address, telephone number, mailing address,  insurance information, description of damage, and bank account information.
Property Taxes
Fire victims are eligible for a program to temporarily reassess their property to reflect a lower value based on its damaged condition. To qualify, property owners must have experienced at least $10,000 in property damage and must file a claim with their county assessor within 12 months. Use this list of County Assessors to file your information.
Wildfire victims can also apply for a property tax deferral of their next property tax payment without penalties or interest. To do this, owners must file a "property tax deferral claim" with their county assessor before the next property tax installment payment date. The Board of Equalization has put together a Disaster FAQ page for more information.
State & Federal Taxes
The Franchise Tax Board and Internal Revenue Service announced special tax relief for California taxpayers impacted by wildfires. Affected taxpayers are granted an extension to file 2016 California tax returns and may make payments until January 31, 2018. For more information about tax returns visit the FTB Disaster Relief Webpage. Federal relief applies to various tax filing and payment deadlines that occurred beginning October 8, 2017. See more information from the IRS here. Wildfire victims may also receive free copies of state tax returns to replace lost or damaged ones using this form. 
Home Insurance
The California Department of Insurance has obtained agreements from several insurance companies handling wildfire damage claims to help victims begin their recovery more quickly.Call your insurance company or agent to inquire about your coverage and next steps.  If you were subject to a mandatory evacuation, you may be eligible for reimbursements for additional living expenses. Remember to watch out for scams seeking to take advantage of this disaster. For more details, visit the Insurance Commissioner's Resources Page or call 800-927-HELP.